Since announcing the sunsetting of the hosted Parse backend and open sourcing Parse Server our community has been extremely active.
Listed below are a guides, discounts, and events to help you migrate your app.
We highly suggest migrating your database by 4/28/2016. Also, be sure to star the Parse Server Github repo to receive updates when we release new functionality.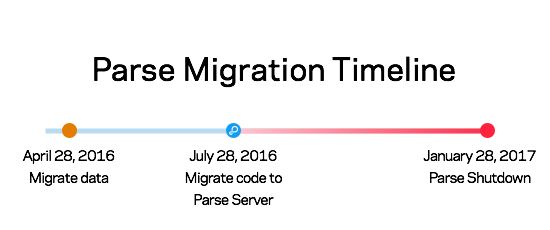 **Database Migration Discounts**
Two database providers are offering discounts to Parse developers that move their databases within the next 30 days.
**Database Migration Guides**
Parse - Migrating your database
mLab — Migrating from Parse
Object Rocket — Move Your Parse Data to Object Rocket
MongoDB — Migrate from Parse to MongoDB Cloud Manager and AWS
**Parse Server Migration Guides**
Parse - Setting up Parse Server
AWS — How to set up Parse Server on AWS using AWS Elastic Beanstalk
AWS by @hassy — [Deploying Parse Server on AWS
](https://gist.github.com/hassy/48bae515c393e9214d3f) Rackspace – Deploying to Rackspace cloud servers + ObjectRocket 
Heroku — Deploy using the Heroku Button
Digital Ocean — Run Parse Server on Ubuntu 14.04
Google App Engine — Deploying Parse Server to Google App Engine
Google Cloud Platform — Run Parse Server on Google Cloud Platform
Bitnami — Parse Server AWS EC2 image provided by Bitnami
Microsoft Azure — Migration Guide
Appcelerator Arrow — Migrating Your Backend to Appcelerate Arrow
Docker — A docker image for running parse-server quickly (French)
Kontena — How to Install and Run Private Parse Server in Production
Pivotal Web Services — Hosting Parse Server on Pivotal Web Services
Running Parse Server locally by @flovimart — Run Parse Server locally
**Database + Application Migration Guides**
Heroku + mLab — Deploying to Heroku and mLab
IBM — IBM Bluemix + Compose
**Parse Push Migration**
Parse Server Push — Parse Server Push Notifications
Urban Airship — [Parse Migration
](https://www.urbanairship.com/parse-migration) OneSignal - Migration from Parse
**Upcoming Events**
3/31/2016 - Object Rocket + Parse — RSVP
3/6/2016 — AWS + Parse @ AWS Loft in NY — [RSVP
](https://www.thinkreg.com/coral/viewWebsite.do?siteId=8a94a8b44ce9af38014cfd91ba7e1bd9) 3/1/2016 — AWS + Parse Webinar — [RSVP
](https://publish.awswebcasts.com/content/connect/c1/7/en/events/event/shared/4183083/event_registration.html?connect-session=graysonbreezuw8fixp5dkyszup6&sco-id=28324610&campaign-id=AWSblog&charset=utf-8) 2/25/2016 — AWS + Parse @ AWS Loft in SF — RSVP